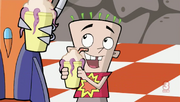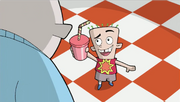 The Squid Shake is based on a milkshake and is part of the Squid Menu at Joe's. It's one of Vinnie's favourite drinks there and just like the Squid Cream, it has squid tentacles sticking out of the cup. Joe's also has a "2 for 1 Squid Shake Hour" from 12 noon to 1 PM on certain days.[1]
References
Edit
Ad blocker interference detected!
Wikia is a free-to-use site that makes money from advertising. We have a modified experience for viewers using ad blockers

Wikia is not accessible if you've made further modifications. Remove the custom ad blocker rule(s) and the page will load as expected.