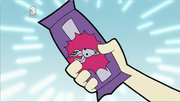 In the episode "
Truces and Consequences
", the 
Squid Bar
s were given out to people around 
Nice-Nurse Goodboots
by herself to hypnotise them into following her "nicely-nice" ways(in simple terms: be the same and not different and lose things that make you who you are). They can be taken out of hypnosis by eating
Ducky food
like the
Squid Finger Surprise
.
Ad blocker interference detected!
Wikia is a free-to-use site that makes money from advertising. We have a modified experience for viewers using ad blockers

Wikia is not accessible if you've made further modifications. Remove the custom ad blocker rule(s) and the page will load as expected.